This year me and my friend Kirsten have twice jumped on the Eurostar for a boozy and delicious weekend in Paris to visit our friend Gill. Both these visits have started in the same way of arriving early on a Friday evening and being welcomed into Gill's apartment with a board of cured meats, cheese, bread and red wine which we devour before heading out for dinner. This allows us to get at least some of our loud over excited catching up out of the way before we go out in public and become those obnoxious English speaking people that cackle loudly with wine stained lips in Parisian restaurants.
Le Galopin 
On our first trip back in the Summer, dinner was at Le Galopin in Belleville. It was straight in with the set menu of seven delicious plates. We ate clams with grapefruit and petit pois, lamb sweetbreads with asparagus and ricotta, rich veal with mushrooms and my favourite a dish of octopus with kumquats and courgettes. Dessert was a delicate strawberry and sorrel ice cream, followed by rich chocolate and green rhubarb. A spectacular start to the weekend.
After dinner it was off to Chez Justine the location of where many tequila shots have been done over our last few visits.
A hungover day in Belleville & Le Maris
The next day was spent wandering the parks, cafes and Patisseries of Belleville and Le Maris. Our first much needed caffeine stop was at Cream for a raspberry brioche and a coffee to go which we took up to Parc de Belleville where we lay admiring the view and awaiting the coffee to kick in.
Once the caffeine had finally kicked in we wondered down to the shops of the Le Maris, on the way taking another pit when passing Ten Bells a cute coffee shop serving more of that delicious Belleville coffee and great pastries. After quickly working up a appetite at Merci it was on to Le Eclair de Gene to pick up some delicious salted carmel and lemon uzzo treats to eat in the sun.
We spent the rest of the afternoon at Le Perchoir. A great rooftop bar in Oberkampf. Come here for Aperol spritzs, a chilled atmosphere and some unexpected views of this great city.
After that it was time to fill our bellies once again. In a effort to save a little cash for a posh lunch the next day and avoid another €50 set menu we went for what I have been told are the best dumplings in Paris and they did not disappoint. The tiny and scruffy no frills hole in the wall that was Ravioli Chinois Nord Est only had a couple of tables and a queue down the street, so we picked up some dumplings to go and headed back to Gill's apartment.
Ellsworth
Sundays in Paris are difficult. A lot of the best restaurant are closed, the city feels like it's dozing, and if like us you find yourself with yet another tequila related hangover and a impending Eurostar home you will be torn between having one last wonderful lunch somewhere absolutely fabulous or the greasy breakfast your hangover really wants. Well in Ellsworth I have discovered the perfect antidote to hungover Sundays in Paris.
It's a place where small plates and brunch collide allowing you to work your way from smokey scrambled eggs, crispy mushrooms, ricotta and pesto, via a plate of fried chicken with fermented milk & chinese cabbage (we know I love a fancy fried chicken) and finishing with a rich dish of lamb ragout with ricotta and herb Gnudi. Other dishes we ate were steamed artichokes with a delicious shallot dressing and a beautiful plate of asparagus and leeks with crumbled pistachio. Dessert did not disappoint, malt ice cream with chocolate sorbet, coffee foam and crumbled vanilla biscuit. A perfect end to a weekend away.
Tondo
Our second visit to Paris just last month started the same way as always with wine and cheese. We then piled into a uber to make our reservation at Tondo over in Quinze-Vingts. Another Parisian set menu spot with 4 cources at €45 and 7 at €60 (save you pennies with lunch for €25). We had fully intended to order only the four, but one thing led to another.
We started with a sort of duck broth/pho with a side of deliciously oily bread and a delicate tempura of yellow place. After that it was on to a carpaccio of aged beef with creamy ricotta that was perfect. Another stand out dish was the roast pork with pickled red cabbage, which we all tried to cut with the wrong side of our 'contemporary' knives until corrected by the very confused waiter as he brought us another bottle of the delicious wine. I think it was about this point we noticed the surprising label.
I think my favourite dish of the night was the unusual velvety puree of Jerusalum artichoke, topped with grilled scallops, followed by one of the deserts which was sheep yogurt and mango with peppery cacao that tasted like a posh Solero.
Another hungover day in Belleville & Le Marais (aka a Pâtisserie/Gallery crawl)
The day began with a caffeine kick at La Fontanne de Belleville and then it was down past the canal and in to the Marais for our first stop for the most delicious cheesecake at trendy Season, where Gill's friend worked. After a little catch up and the cheesecake having been demolished it was onto Bontemps. A tiny Pâtisserie full of gorgeous and delicious things, I tried a small banana, rum and caramel treat which was superb!
After swinging by Noglu a gluten free pâtisserie for gluten-free Kirsten, who was still suffering from a accidental drunk sleep-eating of a french baguette the night before, we headed to our first gallery stop at the VHN Gallery. After a quick vino it was in and out of more little galleries before the wonderful Galerie Almine Rech.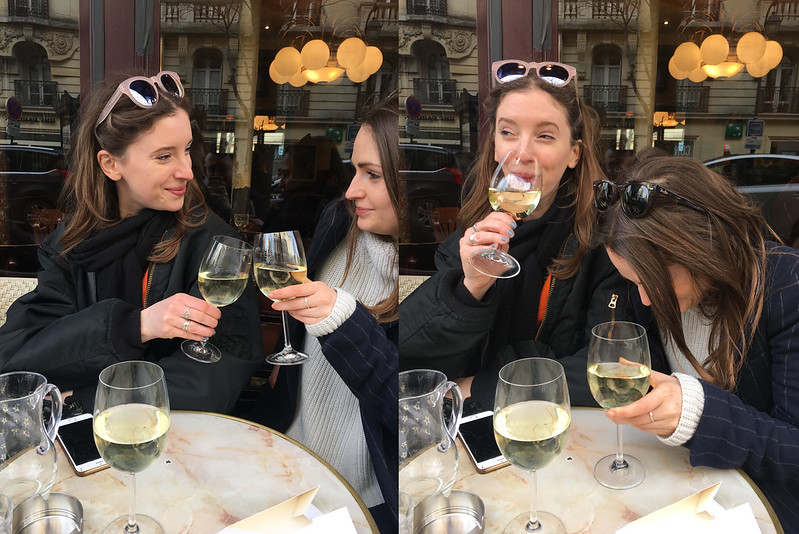 Le Verve Vole
After two failed attempts to secure a reservation at Clown Bar and Au Passage (both on my list for my next visit, along with the difficult Septime) Gill took us to the bisto Le Verve Vole which has quickly claimed top position as my favourite restaurant in Paris.
Set in a casual and bustling wine bar/restaurant/wine shop where there is no wine list and the waiter will find you the perfect bottle based on you choices and budget. The food here is surprisingly wonderful. Choose from deliciously strange appetisers from sea urchin to veal tongue. We had the flamed makrel with burrata and celery, and the tartare of razor clams with broccoli, watercress, green curry sauce and raw cream which was the best thing I've eaten in 2017, maybe 2016… possibly ever? It was wonderful.
For mains you can opt for the specials of which that night were pan fried pollock or a roasted rack of veal. However we went for the Verre Volé classics of traditional pork sausage or grilled thick black pudding which was indulgently delicious. All served with creamy potato puree, green salad and lots of french mustard.
The desserts should not be missed. We had brown butter ice cream with roasted apples and of course a Paris-Brest. Rude not to.
La Fontaine de Belleville
After dinner it was out to Chez Justine and once again we found ourselves hungover on Sunday in Paris. This time we headed to coffee hot spot La Fontaine de Belleville for a simple brunch of boiled eggs and mayonnaise, plates of charcuterie and deliciously greasy Croque Monsieur.
Jardin du Palais Royal
Hangovers seen too, we headed down for a walk along the Seine to one of my favourite spots in Paris the (sometimes) peaceful Jardin du Palais Royal. With coffee from Cafe Kitsune and one last little treat we sat and waited out our dreaded Eurostar home to reality.