It's a blessing and a curse, the curse being that in the six years since I graduated a lot of my friends have left London (and me…) for far away places. The blessing is now I have friends peppered across the world just waiting for me to come and drop myself into there lives for a long weekend of eating, allowing me to get the tasty insiders treatment to life in the place they now call home.
Paris has become one of these cities that I have happily been able to familiarise myself with since my friend Gill moved there five years ago. Now with too many weekends in my belly full of extravagant feasts, tequila shots and hungover crepes, I present a few suggestions on how to have the ultimate weekend in Paris. Read on for a collection of those unmissable néo bistros, delicious stop ins, perfect pastries and a few ideas for when the euros stop flowing that don't involve a weekend of dry baguettes.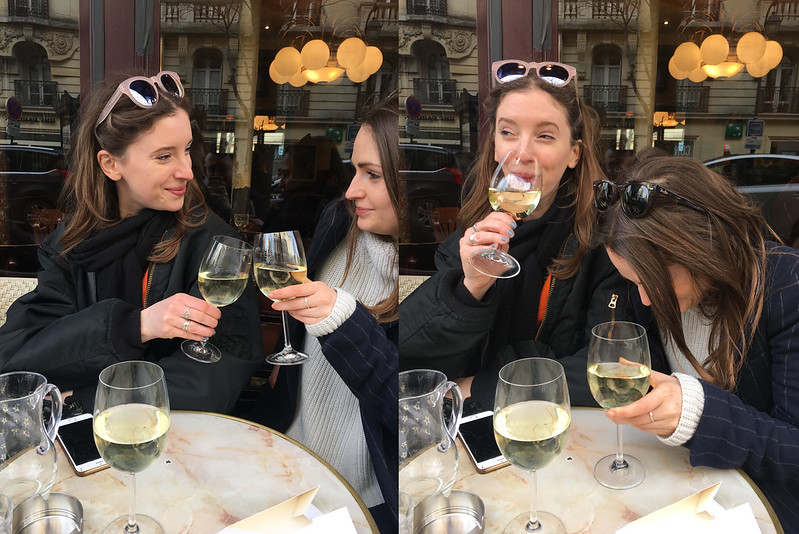 ---
The Hit List
If your weekend can accommodate the four unmissable places below, I can assure you zero disappointment and this blog will be justified.
Le Verre Volé – 67 Rue de Lancry, 75010
On one of my earlier trips to Paris, after failed attempts at securing reservations at Clown bar and Septime,  I was dragged unwillingly to dinner at what was to me the unknown Le Verre Volé. However after a bottle of wine perfectly tailored to our tastes (and budget) arrived at the table, the waiter began talking us through the menu and my disappointment shifted quickly to glee. It was a meal that became the best I've had in Paris, ever. A perfect blend of casual vibes, great wine, fabulous company and the food.. oh the food. Start by choosing some of the strangely dellicious appetisers from the likes of sea urchin to veal tongue. It's here I had one of the most exquisite things I have ever eaten, a delicately composed bowl featuring a tartare of razor clams with broccoli, watercress, green curry sauce and cream. The experimental small plates are married perfectly with the traditional mains. You have the choice of obviously wonderful sounding specials but I must protest that you pick a plate of the Le Verre Volé classics; A choice of pork sausage or thick cut black pudding which both come with a creamy pool of potatoes and lashings of good mustard. The desserts of course are not to be missed either, on my visit we had brown butter ice cream with roasted apples and of course a Paris-Brest. Rude not to.
Clown Bar – 114 Rue Amelot, 75011
As mentioned before there were many failed attempts before making it to the famous Clown bar, however this turned out to be ample time for me to build up the courage to try their insta-famous star dish; veal brain in tosazu dressing. Now I know this looks/sounds/is slightly terrifying and maybe it helped I was about a bottle of orange wine in when it arrived at the table. After having seen my reaction of tasting this exceptional dish, my friends had to try it too after refusing at first, just see what all the fuss was about. It's more than likely I have already put you off from visiting this place, but for the slightly less adventurous eaters out there this restaurant is still unmissable. There is a whole collection of plates to spend a evening working your way through; charcoal mackerel tempura, raw scallops with smoked ricotta, duck and foie gras pie with dates and yuzu, too many to mention but even a salad of radicchio, beetroot and baked ricotta was pretty darn marvellous. The cherry on top is the beautiful interiors, created in homage to clowns from the neighbouring school who once drank here.
La Buvette – 67 Rue Saint-Maur, 75011
There is no better place to see out golden hour than a visit to La Buvette for a few glasses of glistening orange wine. This tiny wine bar (literally about two tables) becomes filled with trendy Parasians (packed like sardines come 5pm through till late) knocking back glasses of delicious natural wine, who are really here for the simple concoctions the owner Camille rustles up from behind the bar. Order the beans with salt and bergamot zest, the burrata topped with a sprinkling of unexpected flavour (that day was dehydrated mandarin) and a few plates of charcuterie. FYI you are sure to leave with a few bottles wine to take home on the Eurostar, thats if they make it and they didn't.
Du Pain Et Des Idees – 34 Rue Yves Toudic, 75010
There is basically a boulangerie on every street corner in Paris, but if you visit one let it be Du Pain Et Des Idees. There comes a point when you can only see something pop up on your feed so many times before you have to go a find out what all the bloody insta-fuss is about. Well I get it now. I can only describe this pistachio and chocolate escargot pastry as perfect. Your only challenge is that this paradise is closed Saturday and Sundays, so take a half day off work, book a earlier train for your long weekend and you can thank me in pastry.
---
For something different 
There is more to Pais than French food. Mix it up with the places below:
L'Avant-Comptoir – 3 Carrefour de l'Odéon, 75006
The younger and more accessible little brother to blow out Le Comptoir du Relais next door, this unexpected little spot serves up a French spin on Spanish Tapas and is the perfect stop before a stroll in the le jardin du Luxembourg. Pop in, order a glass of wine, grab a stool (if you can) and work your way through the dishes that hang from the ceiling, never has a menu with pictures looked this good. Feast on delights such as giant prawns, tuna tartare with strawberries and oysters shucked before your eyes  topped with ponzu.
Ellsworth –  34 Rue de Richelieu, 75001
Sundays in Paris are very difficult. Almost all of the good spots are closed and those that are open stop serving early, which when you're feeling worse for wear after a night of tequila shots at Chez Justine and many places you don't remember, this can prove somewhat hard. Enter Ellsworth, a pretty little spot in central Paris. The reaction might be that the things that appear on the sharing plate menu should have no business being on the same page, let alone the same table. However this is where my deluded dreams of hungover sophistication comes true and where you can eat your way through plates of slow cooked eggs, fried chicken and homemade pasta with ragu in one sitting. Washed down with a vino or two and you will leave feeling almost whole again.
---
That time between meals (patisseries, wine and galleries) 
For that pesky lull between lunch and dinner, a gallery crawl around the Marais and the surrounding areas never disappoints and is very helpful in working up a appetite. Galerie Templon, Vnh and the Almine Rech Gallery are some of the best free spots to drop into that always seem to have something interesting on. For the bigger galleries, the Pompidou of course is a must and on my last visit I saw a wonderful exhibition at the Maison Européenne de la Photo. On your travels around town take pitstops for sweet treats at places like Bontomps for tiny pretty bites, l'eclair de Génie for colourful eclairs and Liberté for a contemporary pastry. In the warmer months after a busy afternoon head to Le Perchoir, a wonderful rooftop bar in Oberkampf with unexpected views of the city. If it isn't quite roof top weather then head to a little wine bar like La Buvette. Another special stop for a glass of wine or to pick up a bottle for home is La Cave à Michel in Belleville which has a similar vibe.
---
For when the euros stop flowing aka surviving a weekend in Paris
All those delicately arranged small plates and natural wines can top up to quite a expensive trip. For some light relief, mix in to your weekend of excess a few of the suggestions below:
Head to Lulu la nantaise Crêperie for black pudding and apple crepes that will soothe your hungover Sunday as well as your shrinking bank account. Pop by Ravioli Chinois Nord Est, a tiny whole in the wall restaurant in Belleville which my friend assures me serves the best dumplings in the city  or you could spend a morning on the terrace of  La Fontaine de Belleville for a simple brunch of boiled eggs and mayonnaise, plates of charcuterie and a strong coffee.
If you are lucky enough to be staying somewhere with a kitchen then head to the market to pick up a bounty of wonderful and cheap ingredients. Get inspired by the French cuisine and cook up a feast before heading out for the cities nightlife.
---
My ever growing wish list. Next time.